Every year with the changing of the seasons, students and job-seekers are expected to start updating their resumes. In this article, we discuss how important is it that you keep your resume up-to-date? We will also share some tips on how to make sure you're CV stands out from the others.
The "do's and don'ts of resume writing" is a blog post about the do's and don'ts for when you are using a CV maker. The article will help you avoid common mistakes that people make when creating their resumes.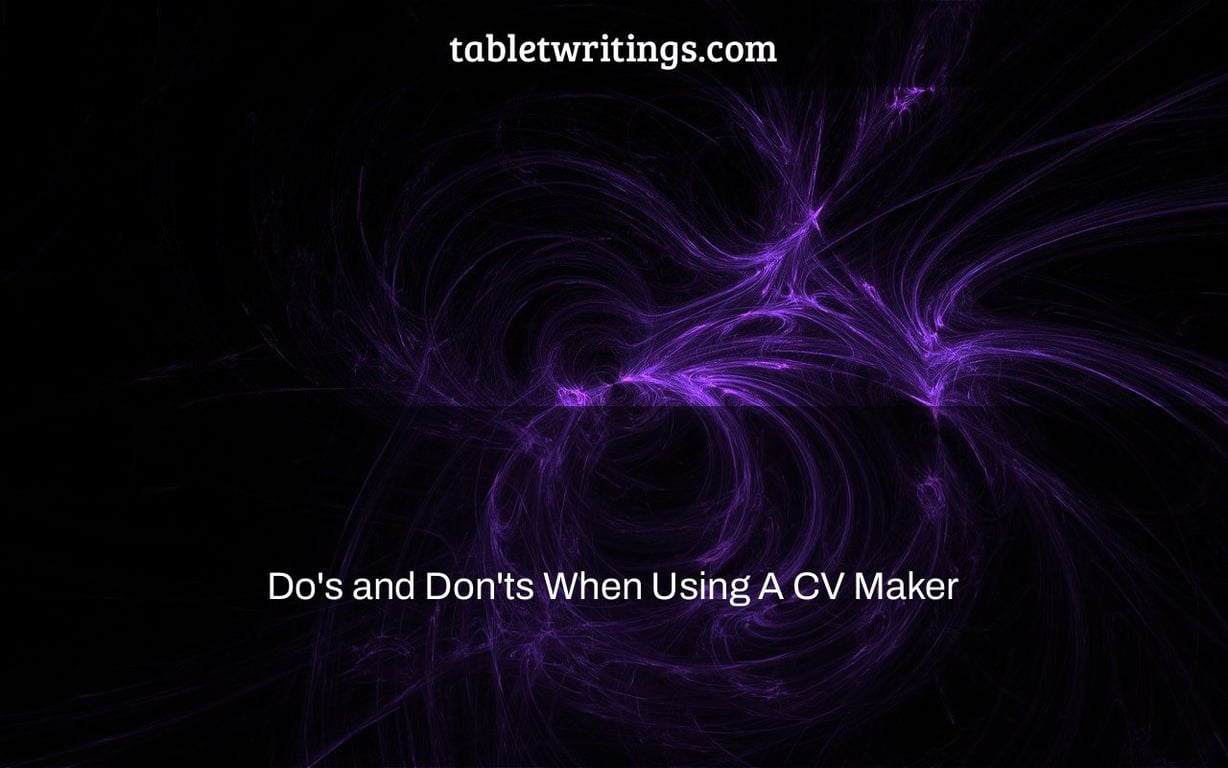 You're probably utilizing a CV builder to create your curriculum vitae as a student. It is assumed that you have done your homework and looked up resume samples on the internet. Nonetheless, this article will provide you some pointers and reminders on how to lay a solid basis for your future career.
1) Keep in mind that the format of your resume is crucial.
If you're utilizing an online CV creator, make sure the design doesn't get in the way of you showcasing your talents and abilities to their full potential. Consider the following questions: Does my CV have a pleasing aesthetic appearance? Is there enough white space? Is this design a good way for me to promote myself? These are just a few of the considerations you should evaluate before making your ultimate decision.
Venngage
2) Make manual adjustments to your design's margins and line spacing.
Even if you're using a free resume maker, there is one component of your design that you'll need to manually tweak to avoid information overflow.
Another element to consider is line spacing, which has an impact on the aesthetic design of your resume.
Although it is advised that you set the top and bottom margins to roughly 1.5, some experts believe that setting the top and bottom margins to 0.75 would give you a better result.
3) Make sure you're utilizing a typeface that's simple to read.
When looking through applications, your potential employer will most likely check multiple different resumes in one day. As a result, you'll want to make sure that when utilizing your free resume creator, you choose an easy-to-read typeface to immediately attract his or her attention.
Venngage
4) Quantify your talents and abilities using numerical numbers.
Quantifying your talents and abilities is a great method to demonstrate your suitability for the job you're looking for. When opposed to employing descriptive words, a numerical number will be more effective.
If you say you have advanced knowledge of a subject, for example, you've just given a potential employer the impression that you know very little about the subject.
If, on the other hand, you tell him or her that you got an 80 percent or more on a college-level test, he or she will know precisely how excellent you are in the subject area without any preconceptions.
5) To describe your professional experience, use bullet points.
This will make your resume seem neat and tidy. Using bullet points may also help your employer rapidly see what you've done or achieved in each of the prior roles you've had. After all, a hiring manager's time is one of his or her most important assets.
On Venngage, look for CV samples that are tidy and well-organized.
6) Include just relevant education and training background for the job you're looking for.
When listing your work experience, attempt to leave out any tasks or projects that are irrelevant to the position you are applying for. If you opt to expand on topics that do not important, you may end up diluting your application and wasting both parties' time.
7) Make certain that your resume is accurate.
Your resume should only include true job experience, training credentials, educational accomplishments, accolades, and so on. With this in mind, it's also a good idea to avoid exaggerating the facts when discussing your former activities or responsibilities at any previous employment.
8) Only apply to one job opening at a time.
This is important to remember, particularly if you are applying for many employment on the same website. If you submit many submissions, none of them will be discovered by your potential employer, therefore your work will be in vain. It's ideal to devote all of your concentration to a single submission.
9) Make use of attention-getting formatting.
You may attract his or her attention by utilizing varied fonts, bullet points, and italicized terms to make your application stand out.
10) Tailor your CV to each position you apply for.
This is especially important if you want to send out many copies of your CV. Employers tire of reading the same thing over and again, so it's important to rephrase each application to make it seem different.
11) Make certain your CV is free of grammatical problems.
While some hiring managers are unconcerned with grammatical or spelling issues, they are more annoyed when you use the erroneous form of 'their' or 'their.' Keep your phrases simple in general. Avoid using unnecessarily convoluted language when simpler alternatives are available.
12) Double-check that you're providing the correct file type.
If your potential employer is searching for a 'Resume,' merely handing over a 'CV' will not help your application. Make sure you're adding the correct document to your email to prevent any misunderstanding.
13) Include a cover letter with your CV.
A cover letter will not only introduce who you are and what you do, but it will also provide you the chance to explain any gaps in your job history and any negative points on your record. When composing your cover letter, it's essential to be honest, since this might make or break your chances of landing the job.
Takeaway
Finally, your resume serves as a first impression. Make sure it's impressive enough to wow the recruiting manager.
You may be confident that there are numerous options for finding work these days, even if you lack appropriate expertise. It is up to you, though, to make oneself stand out from the crowd.
Watch This Video-
The "resume do's and don'ts ppt" is a presentation that covers the dos and don'ts when using a CV. It also includes some great advice on how to make your resume stand out from the crowd.
Frequently Asked Questions
What are the dos and donts for a good CV?
A: When applying for a job, the most important thing that you can do is to make sure your CV is well-written and formatted. It should be easy to read and match up with other CVs on the companys database or website. This includes punctuation, grammar mistakes (including spelling), formatting issues, etc…
How do you use a CV maker?
A: You can find a CV maker on the internet, and follow their directions.
Is using a CV template bad?
A: Many people have had no issues with using a CV template. However, if you can afford to spend the time and money on your own academically-sound CV then by all means go for it!
Related Tags
resume do's and don'ts pdf
resume dos and don'ts 2021
resume dos and don'ts for students
resume dos and don'ts for college students
resume dos and don'ts for high school students